Bio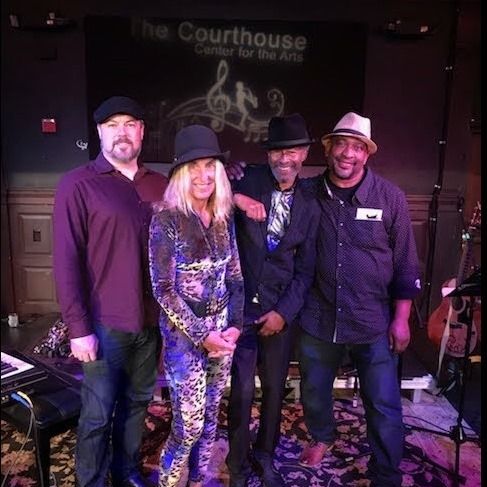 What if H.E.R. and The Last Poets formed an band...you'd get the Renaissance Funk sound of Copus!
COPUS has been ongoing since forming in the late nineties and has developed a faithful following of discerning listeners. In addition to Poet Royal Kent and Composer Wendy Loomis, the current instrumentation includes bassist Patrick Mahon, drummer Levon Washington, and an array of guest artists. COPUS has performed at festivals, jazz clubs, art galleries, private parties, charities and fundraising events throughout the United States. Some highlights of COPUS' 20 year performance history include performing upon such illustrious stages as: 
* The Bitter End, NYC
* Feinstein's 54 Below, NYC
* Cutting Edge Festival, New Orleans  
* San Francisco Jazz Center 
* Top of the Mark (Poetry & Jazz Series), San Francisco  
* Poets & Composers Salons  - House Concert Series  (6 years)
* San Mateo County Fair - Festival of Light, San Mateo
* WordxWord Festival, Pittsfield, MA
Most recently, COPUS presented world premieres in Washington, DC of their original score entitled "What if We?" at the World Bank and at the acclaimed Jefferson House for the 20th anniversary of the non-profit organization Forest Trends. "What if We?" is a composition with music by Wendy Loomis, poetry by Royal Kent, performance by COPUS, and in collaboration with a team of scientists from ClimateMusic Project.  The subject was sea level rise.  
The ensemble was nominated for 'best jazz song' by the Hollywood Music in Media Awards, was honored with 'best spoken word' by the Clouzine International Music Awards, and won the 2021 W.A.M. Award for 'Best Social Justice song'.  In addition, COPUS has been on the GRAMMY ballot four times.  As one music critic wrote, "COPUS is like a combination of Quincy Jones meets Baz Luhrmann…theatrical & dramatic in nature with great storytelling."
"Never let the fear of striking out keep you from playing the game."
~ Babe Ruth