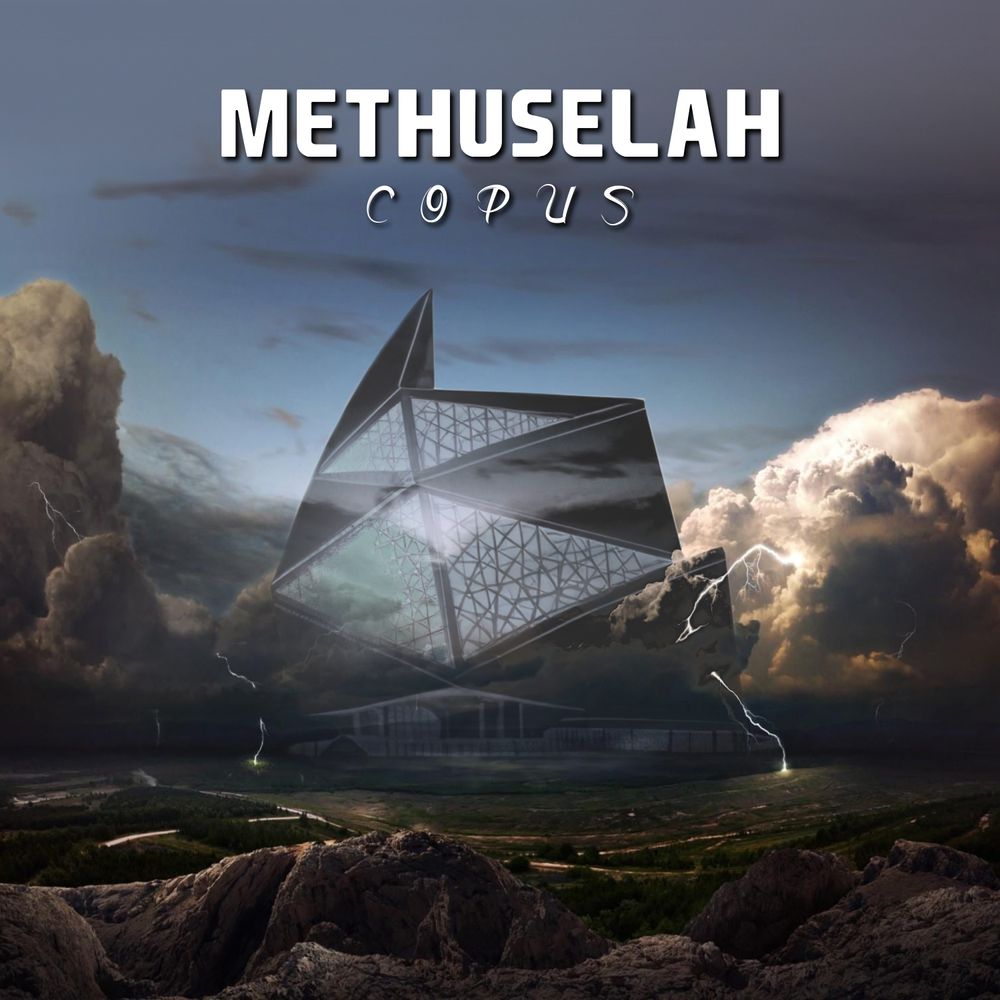 Indie Music Plus
JoeJoe Keys
Indie Music Plus embodies the essence of indie. We embrace all genres without discrimination. If your music resonates with quality, you'll find a spot on our site. With that in mind, my initial encounter with the new single "Methuselah" by Copus left me bewildered, yet intrigued. Brace yourselves for an unconventional auditory adventure that's not rock, pop, or rap; it's a unique fusion of spoken word and music that demands a listen.
The ensemble, Copus, which stands for Creation of Peace Under Stars, originated in 1998 through the collaboration of poet Royal Kent and composer Wendy Loomis. They've crafted a unique sound described as Renaissance Funk, blending the rhythmic essence of spoken word with a musical backdrop. Though new to me, Renaissance Funk has apparently been carving its niche for quite some time. If you're acquainted with spoken word over music, this emerging genre—Renaissance Funk—will likely pique your interest.
Now, onto the song "Methuselah." Its divergence from the mainstream is refreshing. The sound quality is top-notch, offering clarity in every beat, though the vocals may seem a bit subdued and muffled—a deliberate choice, perhaps, to accentuate the genre's distinct style. Despite this, the lyrics remain fairly discernible, a crucial aspect for appreciating the poetic rhythm intertwined with the music.
The piano, although subtle, adds a delicate touch, enhancing the narrative carried by the spoken words. It's not about catchy hooks or enticing melodies; it's about the seamless marriage of rhythm and poetry that takes center stage. Two noteworthy highlights of "Methuselah" are its impeccable sound clarity and the innovative blend of spoken word, which makes Copus stand out. Their distinct style might just be the fresh breath of air the music industry needs, appealing particularly to those with a penchant for the unconventional.
Copus has undoubtedly brought something unique to the table, and I'm grateful they shared their music for review. Now, I'm eager to hear your thoughts on Copus and their novel single "Methuselah." Connect with me on social media at @JoeJoeKeys and let Copus know you discovered their music right here on Indie Music Plus!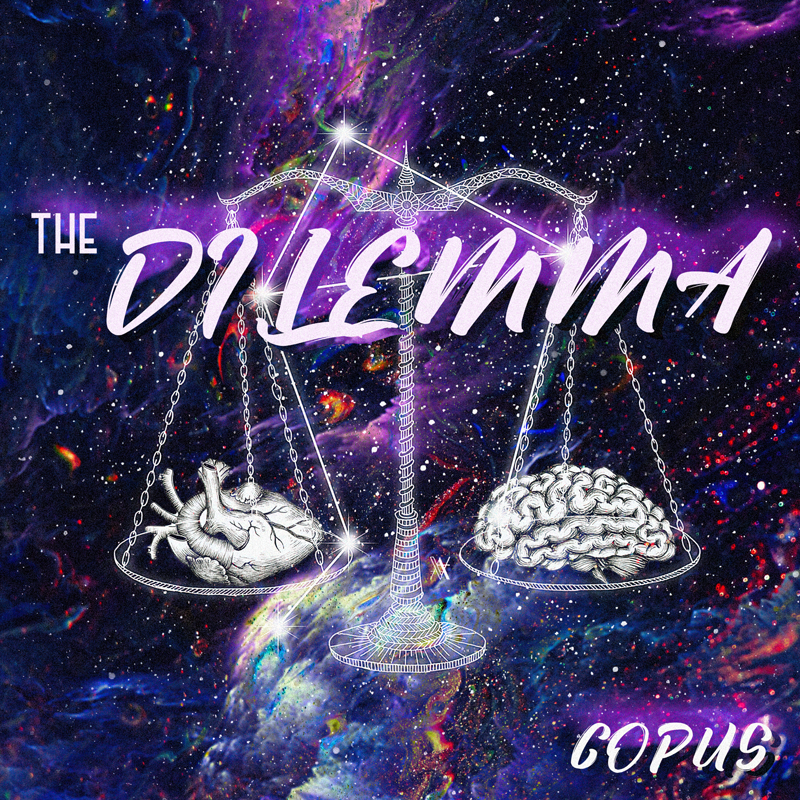 Clouzine Magazine
Joe Kidd
Brothers & Sisters,
It has been my unspoken rule not to review the same band twice. I feel it may not be fair to the artists who deserve a more broad stroke of attention. But when Clouzine contacted me to ask if I might listen to the new record by COPUS, I agreed immediately... My first question this time was 'what is the dilemma?' It is crucial to understand where the writers and musicians are living inside their heads in order to apply justice to their art.
In a world where commercial radio is a barren desert of homogenized and formulated regurgitated noise decorated with fire bombs and half naked dancers, COPUS is an oasis of articulate and moving organic music and hard core intelligent verse.
COPUS will wake you up from the media induced slumber of mendacity. You will be challenged and charged to act upon what you hear. Your heart will travel back to when revolution was a thing and the people were fierce and fearless. Your mind will travel into the future where hope is aolive and waiting for you to join together as a community and as a species to bring the corruption, volence, and madness to its proper end.
COPUS is jazz, my friends, jazz and poetry. It is human in an industry were AI music and Yacht Rock are actually recognized as genres. On this record, COPUS steps everything up a notch. They are conjuring all soulful warriors past, present, and yet to come. They are standing at the Walls of Jericho with their horns blasting. It is dance music. Dance your way into a new and colorful world. Swing and sway through the smoke-filled rooms of freedom, love, and happiness. Show respect to one another. Be smart. Be brave. Listen to COPUS with your tribe. COPUS is listening to you.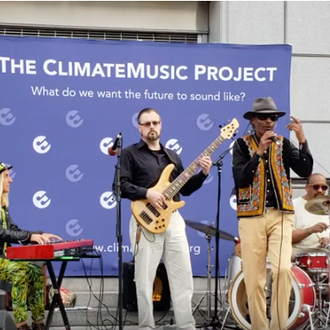 New York Times
Knvul Sheikh
On Oct. 29, a composition by The ClimateMusic Project — a jazz and spoken-word piece called "What If We…?" — was performed by the band COPUS in front of an audience of about 250 people at the World Bank headquarters in Washington, D.C., for the opening of the World Bank's Art of Resilience exhibition.
To create the piece, Wendy Loomis, the composer for ClimateMusic, and Alison Marklein, an environmental researcher at the University of California, Riverside, began with data on sea-level rise published in the journal Earth's Future in 2018 and often cited by the Intergovernmental Panel on Climate Change. A computer algorithm then converted each foot of potential sea-level rise into an audio frequency, each frequency slightly higher than the last. The result was the aural equivalent of a graph.
The composition begins with audio representing the current-day sea level. As the piece progresses, it tracks the data into the future, like the time axis on a graph. The music becomes increasingly distorted and intense, and a battle ensues between the bass (representing diminishing land area) and the drums (rising sea level) that is emotionally jarring.
Spoken over the composition are fictional (but plausible) news headlines from the future, envisaging how rising sea levels may affect the globe, such as "The Arctic Ocean is ice free for the first time" and "the Marshall Islands are almost completely swallowed by the Pacific Ocean."
Video by the Climate Music Project of the COPUS World Bank performance can be seen here: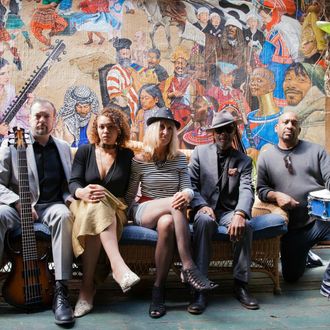 MusicDish.com
Michael Allison
COPUS is a musical group with some of the most talented musicians that I have yet come across. The music is a mixture of Spoken Word, jazz, a touch of blues and a hint of classical styles. This music is a little difficult to compare to anyone else because I have never really heard anyone like this group. The jazz styles are very complex and the music that is created is absolutely masterful. These compositions are amazing with just the music, but then you get the added pleasure of the smooth spoken word vocal styles of Royal Kent.
His poetic onslaught of powerful lyrics are mind boggling, to say the least. His silky smooth voice holds a tight grip on the listener's ear and keeps them in a state of mind numbing ecstasy. The musical virtuosity of the members in this group is absolutely amazing. Having this much talent in one band should be a crime.
The music develops into a sort of scenic painting in your mind as it is played. The warmth and soul of the musicians is almost seamlessly produced throughout the entire album. This is musicianship and songwriting at its best. I don't have to tell you how impressed I am at the talent and musical excellence that is portrayed here. This is new music for the new millennium. I also recommend this be one of the first choices for Spoken Word Album of the Year.
Personal Notes: I never considered myself a fan of spoken word styles of jazz. Although I have always been a jazz fan, the spoken word aspect was never one of my favorites. This band has definitely changed that perspective. I was surprised at how much I liked this music.
There is something about it that makes me want to hear it more. I'm not sure if it's the music or the lyrics or the vocals. I only know that it's there and it is definitely alluring. It is my belief that this music could be legendary if given the opportunity to thrive.
I've heard the buzz about this style, but never thought much of it until I heard the music. Now you need to hear it, whoever YOU are. The worst that could happen is that you broaden your horizons and find yourself really loving a style of music that you might not have known about before. If you are already one of those who like the spoken word style, then this is a group well worth checking out. This is one band that I am really happy to have as a part of my music community.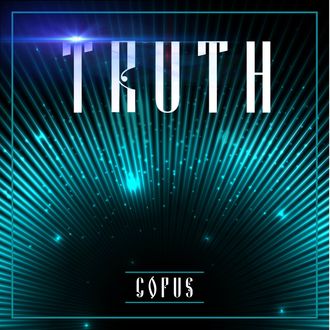 Clouzine Magazine
Joe Kidd
Brothers and Sisters, this one goes out to all of you who claim to seek Truth. Gather 'round, rush the stage, rise up, and claim your inheritance. Listen to this! We have found another nugget, another source, another proof that Truth does exist. It comes in the incarnation of a band called COPUS (Creation Of Peace Under Stars).
Now look upward and be inspired. When we think of Jazz, we think of communion of souls merging as one force to create one sound, the music of the spheres, the ever-present everlasting Om. When we think of Hip Hop, we think of free form poetry, mature and muscular, intelligent and timeless. If we are able, we may imagine what could happen when those two realities come together. This is where COPUS lives.
When I hear this song for the first time, I immediately thought "West Coast" where the green grass, the hot desert, the majestic mountains and the great ocean form the landscape - where diverse cultures exist, not only side by side, but intertwined.
COPUS is an offspring of these influences. Together they incite a revolution of thought, with the focus on outcome and results. They expressed a unique knowledge of the world as a community, often in need, but not without resource and possibility. This is street music, street poetry reminiscent of prophets like Gil Scott-Heron and The Last Poets. I hear the beat poets of NYC, and the great jazz artists of the 1960s.
COPUS comes to us with music that is solidly constructed to withstand the weight of the heavy rhymes. Rhymes of liberation, rhymes of activism, rhymes of consequence. In the critical and historic days that we currently find ourselves thrust into, it is essential that we have artists with wisdom that we can trust. It is crucial that our poets and musicians intend to find the ways and means to inform us and direct us to the Truth. That is what this track and this groups is all about.
COPUS is a world-class organization with a catalog of important material. They have recently received the Clouzine Magazine Award for Best Spoken Word Group. To find out why, you are invited to visit them at their official website.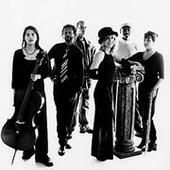 Music Connection Magazine
Tom Kidd
From San Francisco group COPUS comes one of the most intriguing, challenging, and ultimately satisfying albums of the year. The core of the group is composer, musical director and co-producer Wendy Loomis and Royal Kent, poet and co-producer. Together, they produce music that is part jazz, part classical, cerebral and sexy. Think of Copus as the love child of Jack Kerouac and Grace Jones.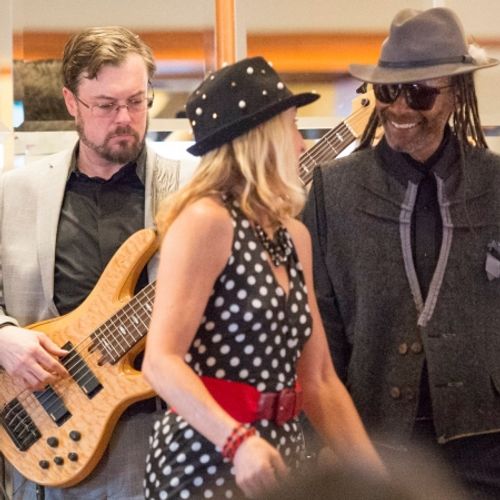 S.F. Bay Guardian
Cheryl Eddy
Music Pick: After meeting at an open mic event six years ago, poet Royal Kent and composer Wendy Loomis pooled their talents and formed Copus, a group that fuses spoken word with the members' own brand of millennium music (a mix of classical, world, blues, jazz, and other genres). This freethinking approach to the creative process makes Copus - now a full-fledged band with flute, drums, stand up bass, and other instruments - perfect as host of 'Language: The Journey to World Peace'.
"Fillmore" is the dazzling and ear-catching new single from Copus. Delivering what the group calls 'Rena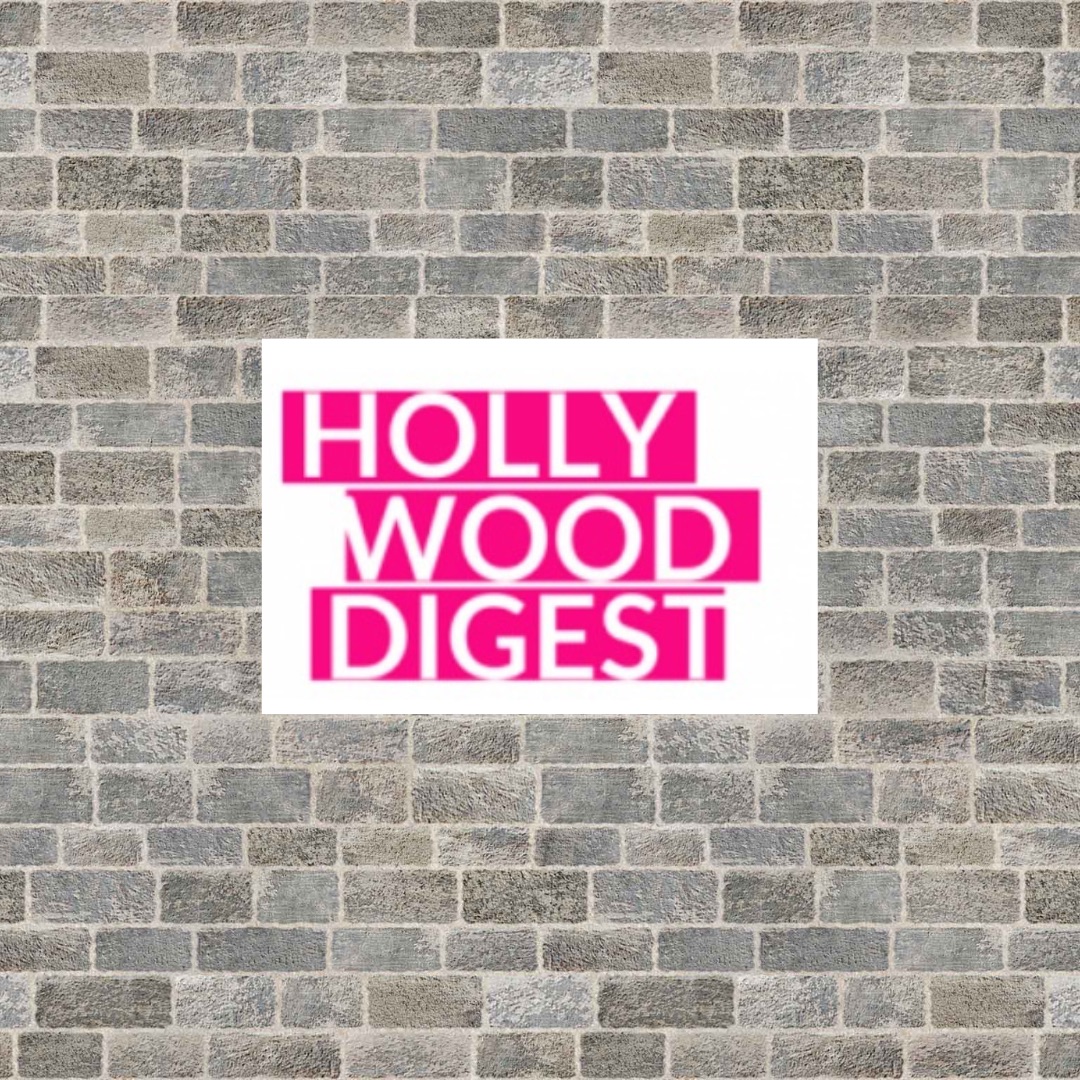 issance Funk', this spoken-word, rap fusion heavy on the jazz tones, celebrates the "Harlem of The West", a historical stretch of music venues in San Francisco that thrived with black business and the sounds of jazz filling the street in the 1950s and 1960s.
Copus honors the sounds and the spirit of the era, all the while, casting a wicked spell of modern energy. "Fillmore" not only drifts the listener back to a magical time, it makes sure the historical significance is not lost. Not one iota lost. 
The male voice sing-says a multitude of lines that all seem to rhyme with 'Fillmore'. Leaving us always wanting more, he rattles. Beloved venues of lore…cultures coming together, rich and poor, he continues. Underneath his character-filled voice (there's a tiny rasp in the tenor, a bit of a saliva residue on the tip of the tongue) is a subdued mix of percussion, bass grooves and keys.
When you think it's going to be an improvised music bed, it floats off, only to ramp up again.
Just under the four-minute mark a second male voice starts to strut a rap-style presentation. The two switch off, as if the baton were being passed laterally across genres and eras.
It's also a chance to bridge together two generations, as the first male voice has a sense of aged wisdom. I could be wrong. I felt like the first voice is an older gentleman, whereas the second, rapping voice is a younger soul. It really molds together the song and the spirit of the jazz age. It's hard to find the right descriptive words because it's truly unique.  
This song is an ode to the people and places that built the golden era of music. Names like (Ella) Fitzgerald, (Billie) Holiday, (Duke) Ellington, (John) Coltrane and more are called out. The contributions of these legends can't be understated.
Just because you aren't hearing the passion via a singing voice, and rather a slam/spoken word style, doesn't take away from that enthusiasm. The momentous impact is evident and it's conveyed in a special way. I loved the way this song curves and drops, the path it takes is eclectic and euphoric.
If you close your eyes you might imagine a haze, a veil of smoke that takes you back to the time when jazz clubs were smoke-filled, dressed-to-the-nines places to be. Copus transports the listener immediately to that time and place. As a listener, you feel like a visitor and you've been allowed behind the velvet rope. Still, you're a welcomed participant and the jazzy, smooth vibes are the best ticket in town.
"Fillmore" might represent a bygone era, and what feels like a million years ago, but Copus gifts the world with one more listen, one more jam to the timeless music.
"Fillmore" is one of the year's most unique tracks, and certainly one of its best. Music lovers of all genres should take a listen – "Fillmore" is one swingin' track.  ~Garth Brooks
Imagine listening to the contemporary jazz sound of Kamasi Washington blended w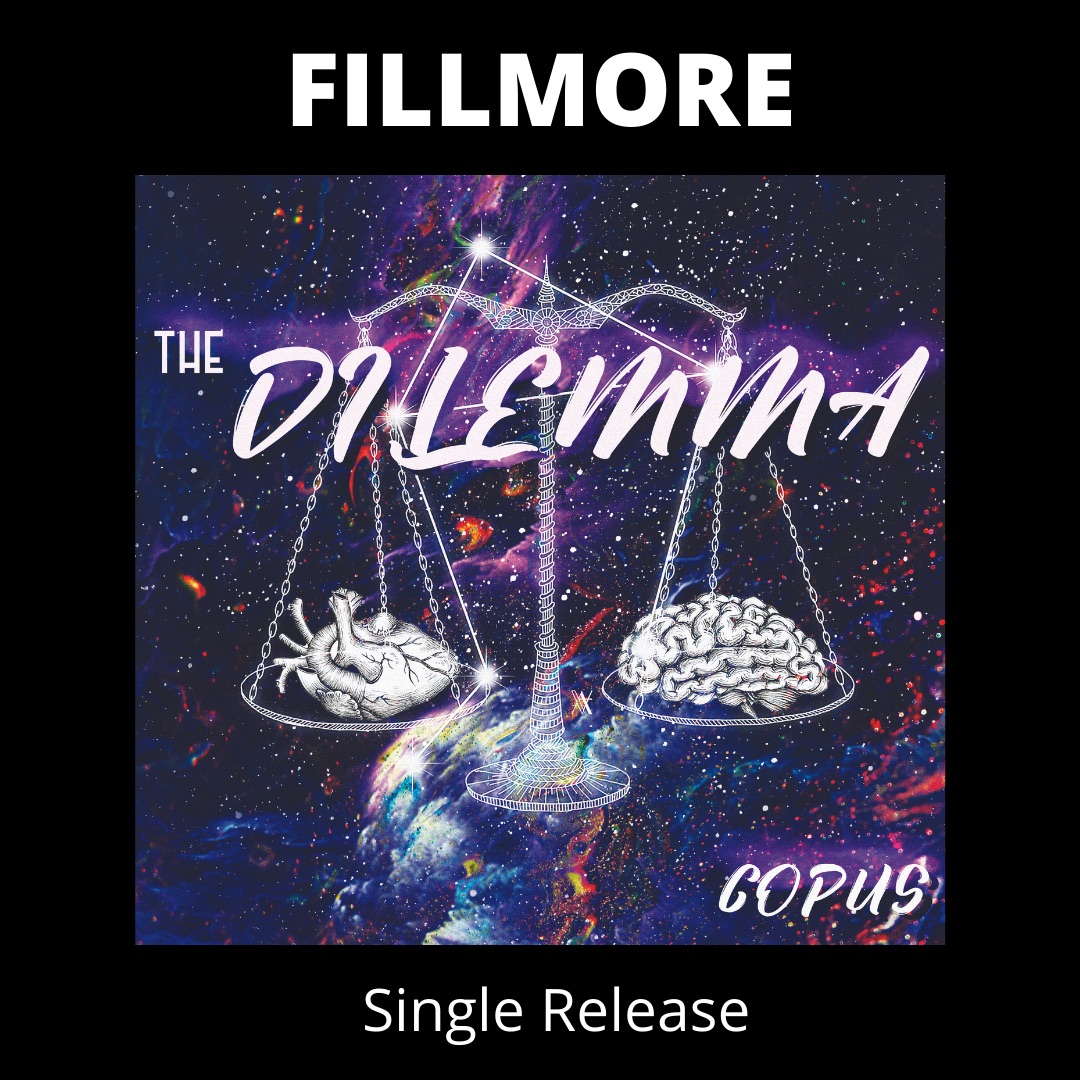 ith the traditional stylings of Duke Ellington. That's what we did with FILLMORE! 
This song is a spoken word jazz tribute to the myriad of artists who were a part of the Fillmore District - the wondrous "Harlem of the West" - during the 1940s and 1950s.  It is a single from the upcoming vinyl album THE DILEMMA.
In addition to the COPUS quartet, colleague guitarist Noshir Mody brings his sweet Wes Montgomery sound to the mix and Omar Clark Taylor on congas brings FILLMORE to life.
The track also includes the dynamic sounds of brother-sister duo singer Michaela Miller and rap artist Danye Miller in a way that fuses the contemporary with tradition.
Available now on iTunes, Amazon, Spotify and all major streaming platforms!